How Community Beer Co. is taking its brand to the people (everywhere)
Snicker Doodle Ale. Mosaic IPA. Brett's Get It On. Silly Gose. When it comes to bringing the fun to craft beer, nobody does it better than North Texas' Community Beer Co., the brewery that Kevin Carr brought to the edge of the Design District in Dallas in 2013. An area that was once known for Miller Lite now features scores of breweries pushing local beer creations. At the forefront is Community Beer Co., which features a state-of-the-art brewery made by Newlands, one of the premier manufacturers of brewery equipment in the world.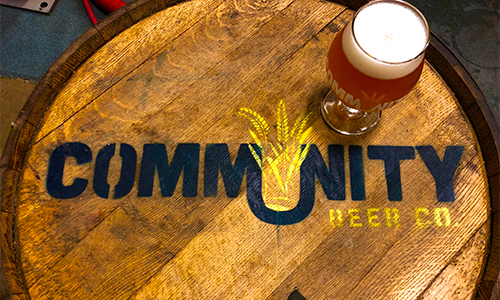 Its highly demanded selection is complemented by a location that supports local artists, musicians and charities, a combination that Carr and company call "Beer for the Greater Good."
We sat down with Carr to get his take on how Community Beer Co. is helping change the face of craft spirits in the Great State of Texas and beyond.
Give us a snapshot of today's craft brew market.
Since we launched our operation seven years ago, the market has become exponentially competitive. But as with most industries, things are stabilizing. This includes some corrections leading to some breweries getting stronger, while others decline or even go out of business.
After years of many experimental beers and obscure styles being offered, consumers are now gravitating to many more traditional styles. IPAs are still the strongest category, but lagers and traditional ales are now being showcased by craft breweries again.
What's likely to happen next?
I believe we will still see more shakeout of craft breweries, whereby a handful will continue to grow, and others will not. Consumers are starting to pick their favorite brewery brands in the market, and with so much visual noise on the shelf, it has become harder to pay attention to all the new brands.
I also believe you will find many craft breweries doing more with their taprooms, some (like us) adding restaurants to increase traffic (and revenue) to their facility.
What trends are defining the space?
Traditional lagers and ales have made a comeback. Many folks still want those sessional beers you can drink several of while being outside, by the pool, at cookouts or just sitting on the sofa.
Also, the "better for you" category (that's actually what it is called) includes the explosion of hard seltzers that have hit the market. Even these seltzer manufacturers are shocked by the explosive growth of this category. As for beer, some breweries are offering low-calorie and/or low-carb options for this category. Community Beer Co. is doing this as well. We recently launched Hop Skinny, a low-calorie, low-carb IPA. It smells and tastes like a regular IPA, but better for your waistline.
Lastly, consumers are seeing (and will continue to see) a plethora of new alcoholic options across beer, spirits and wine. Many small-batch, local spirits makers have joined the game. And a large alcohol conglomerate is in its final testing of instant mixed drinks, whereby you would drop a K-cup-like pod into a maker, hit a button, and out comes a margarita, vodka soda, old fashioned, and more.
Day in and day out, everything you do must align with the same "vibe" you want your brand to emit. 
What is the Community Beer Co. story from a brand perspective?
When I started Community Beer Co., I not only wanted to build a brand that represents high-quality brews, but also one that promotes community-building, goodness and love. This is precisely why I called the brewery "Community."
Our facility is highly visible and centrally located in Dallas, Texas. It has a large gathering space where we host a wide range of events that bring the community—from all walks of life—together.
We also have a 501(c)(3) attached to our brand called "The Greater Good," which gives back to the community in various ways such as homeless assistance, the deaf, disaster relief, support of various other charities, a charitable cycling team, and more.
Through our marketing and actions, all of this defines our brand.
Walk us through your branding strategy.
Our branding strategy is three-pronged:
No. 1: Making high-quality beer. There are no shortcuts in our brewing process and quality control. And we have validated this by winning many prestigious awards.
No. 2: Connecting with consumers: Use of our facility and market events to bring large numbers of the community together so they can connect with our brand. Showing folks a good time, interacting with our amazing staff and giving brewery tours really shape consumers' connection to our brand, which translates to increased sales out in the market.
No. 3: Marketing: We leverage multiple marketing channels to continue to shape our identify and promote our brand. Our marketing team does an amazing job of creating fun, goofy, and engaging content across both social and traditional media channels.
What's the biggest issue today related to the marketing/sales side of the craft beer business?
Quite simply, it is all the noise out there in our space. In Texas alone, there are around 400 breweries all competing for consumers' attention. Nationwide, there are nearly 8,000. Therefore, it is challenging to stand out in social media marketing, winning shelf space and maintaining tap handles in a market with so many choices out there to choose from.
What is the secret to creating a branding story that consumers can buy in to?
There are three things: Passion. Marketers have to be passionate about their brand, and have fun marketing it. You cannot do anything well without passion.
However, the second piece of the equation is understanding what you want your brand to represent. Understanding if your marketing activities and visual content is actually aligned with what you intend. Does the consumer react differently to your brand than you think? Are you too close to your brand to understand what it really means to the market?
And finally, consistency is key. In an ever-changing market, it is easy to want to change your branding to react to the trend of the moment; however, marketers need to be consistent in their message. That repetition is how to solidify what your brand means to the outside world. Day in and day out, everything you do must align with the same "vibe" you want your brand to emit. Too much change—or inconsistency—only confuses the customer, and they will not resonate with your brand.
Our taproom is integral to our branding/marketing strategy. We use it for a wide-range of events so that consumers can really connect with what we are all about. 
What is the one thing that every craft beer brand should be doing in the way of marketing?
Have deep expertise in social media and use it effectively. We all know social media is arguably the best marketing channel we have ever known. It is cheap, quick, engaging and we can get instant (often trackable) feedback of the effectiveness of our marketing.
Part of this expertise means knowing how much is too much. There is a fine, delicate line of frequency of your posts so that you do not annoy consumers. And there are many best practices surrounding when to post, how often to post, how to effectively use images, when to use video, use of event pages, promoting posts, and consumer engagement.
What do you see as some of your biggest opportunities moving ahead?
Generally speaking, we have two major opportunities ahead. One is that as we continue to grow, we are strengthening relationships with grocery and restaurant chain managers so that we can continue to win large placements across their networks. This will also lead to expansion to other states.
Two, we will be moving into a new facility later this year. Not only will this greatly increase our production capacity, but we will add more product lines for on-premise consumption, add a restaurant, expanded taproom, biergarten, concert stage, more private event space, and more—all of which will help execute the customer experience component of our marketing strategy.
What's the biggest item on your to-do list right now?
The aforementioned new facility. We are currently in the design phase of our new 80,000-square-foot facility with construction about to begin. All the moving parts associated with our new facility takes up a considerable amount of my time these days.
How does your taproom space integrate into your branding/marketing strategies?
Our taproom is integral to our branding/marketing strategy. Our facility is centrally located in Dallas and offers a large gathering space for the public. We use it for a wide-range of events (or normal taproom "have a beer and chill" hours) so that consumers can really connect with what we are all about. It is critical for our customers to be able to see and feel first-hand what we are all about. Giving folks a reason to visit us is key to our marketing.
Does music and/or other arts play a role in your overall brand strategies?
Absolutely. We are a huge supporter of the arts. We regularly have live music in our taproom. We often invite local artists to display their work for sale, and they keep 100% of the proceeds. We are also about to release a series of cans designed by local artists. 
Story by By Michael J. Pallerino
---
Sitting down with… Kevin Carr, founder, Community Beer Co.
What's the most rewarding part of your job?
There are so many rewarding aspects of my job. From seeing our beer available throughout the state, to having people nationwide say they know our brand. But the thing I really enjoy the most is seeing the diverse range of people our brand attracts. At any given time, you will find all walks of life in our taproom: young and old, all ethnicities, single and families, conservative dress and tattoos, and more. It is this that confirms our branding strategy is working. We are called "Community" for a reason.
What was the best advice you ever received?
I've had lots of great advice in my nearly 25 year entrepreneurial career—either from direct communication or reading. But the one I adhere to the most is that success is temporary. Things can change quickly. And I have seen this many times in my career. So I never get complacent or feel I have "arrived." I get up every day with the mentality that our successes can shift at any time. My team and I work hard each day with a start-up mindset, never taking for granted any successes we may have found along the way. We are always ready to react to big changes in our market.
What's the best thing a customer ever said to you?
I am fortunate enough that on many occasions I have been told that Community Beer Co., is their favorite brewery. With so much great beer being made out there, this is high praise.
However, the best compliment I have ever received is being stopped at a market event and she said: "Community Beer Co., means more to me than just great beer. Your company represents full inclusion of everyone without judgement." She continued to say, "Sometimes I just visit your brewery to lift myself up." Wow. Needless to say, I gave her a big hug.
What is your favorite brand story?
There have been many. The best come from folks outside of the markets we sell. Sometimes it is shocking to run into someone thousands of miles from our home market who knows our brand.
But this one takes the cake: My wife and I were on our honeymoon in the Virgin Islands a few years ago. To get to our resort, we had to jump on a small, six-passenger boat to take us across the bay. One of the couples sitting across from us saw our logo on my hat, and said, "You know Community Beer Co.?" I said, "Yes, I am the founder." He nearly fell off the boat. He went on to say how much he loved our brewery and seeks us out every time he visits Texas. He had been to the brewery, knew all our beers, our awards, and even the events we have put on. It was absolutely surreal to make that connection on a small boat in the middle of the Caribbean Sea.