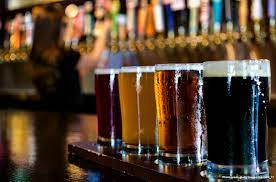 As seen in ABC 4 News Charleston
Almost a billion dollars. The most recent data from the South Carolina Brewers Guild reveals craft beer has a $905 million economic impact in the state. And the beer business continues to boom. In the Lowcountry alone, there are nearly 30 breweries. Most of them are operated by men. But not all.
"I'm actually pulling a sample so we can check a specific gravity to see if the beer is ready yet," explains Sara Gayle McConnell as she uses a tool to examine a sample of beer.
She and her husband operate Tradesman Brewing Company on King Street Extension in Charleston.
"This is a hydrometer. And so it gets put in," said McConnell as she inspects a container of beer similar to a test tube.
Sara Gayle is part chemist, part business manager, and part beermaker. She's a jill-of-all-trades. It's a journey she began in 2014 after a career working in the NICU of MUSC.
That's when she traded in her scrubs for suds.
"I kind of think I fell into it naturally because I had been dealing with doctors and residents. And having a strong role as a woman, as a nurse for 25 years, and so I just care for something different now," McConnell said.
As one of the few female brewers in the state, she thinks craft beer is returning to its roots.
"Women who were the original brewsters were the ones that had the ale houses. And that sold the beers. So it kind of was a business back then. I think it was just as business got bigger, it became more male dominated," she said.
Now, she's competing to win-over customers one sip at a time.
"We can shovel grain with the best of them and make recipes to brew beer with the best of them, we can also be women. Strong women."
Tradesman isn't the only local brewery with a woman in charge. On Johns Island, Estuary Beans and Barley entered the competitive coffee and craft beer scene last year.
It too is operated by a woman.
Sara Boberschmidt has also tapped into the beer business. She's the general manager and partner. While she's on medical leave, her team meets the demand of thirsty consumers.
Back at Tradesman, people like Nick Wong savor the flavor of variety – on the menu and in management.
"I think diversification in any industry is a good thing. Especially in the brewery and craft beer industry," said Wong. "I think it brings out a lot of different ideas.
And it shows that people that beer isn't just a man's drink. It's for everybody."
For Sara Gayle McConnell, her second career is just beginning.
"We might be playing with the boys but we don't have to be gruff and tough all the time. There's another side," she said with a smile.
Coast Brewing Company in North Charleston is also owned by a husband and wife team. And the head brewer of Riverdog Brewing in Beaufort County is a woman.